Since Four Decades, Nazeer has been serving It's royal Mughlai Cuisine. We have the best delicious from the Mughal era, brought to life by Mr. Aftab Ahmed with his scintillating recipes. Our menu has vast choices from traditional Mughlai & Indian Curries along with tempting tandoori and Fried dishes. We feel pride serving our royal food with rich aroma and authentic Mughlai taste, at reasonable prices.
Mr. Aftab Ahmed is a businessman who started supplying fresh poultry products to the five star hotels in Delhi. During his visits to the restaurants and interaction with best chefs and industry experts of that era, a deep interest in cooking was developed. This interest was so profound that he decided to wind up his poultry supply business and bought a piece of land in Ganesh Nagar to open his first restaurant "CHICKEN TAKEAWAY". He started with a limited menu of lip-smacking, delicious kebabs and fried chicken. With Kebabs becoming an instant hit, Mr. Aftab innovated and created fried chicken lollipop, which went on to become a landmark product in Nazeer's history. After a glimpse of the huge demand and love for the food, soon the focus changed to become a complete restaurant and he introduced many new mouth-watering dishes, which Nazeer is renowned for now. In process Chicken Takeaway was rebranded into "Nazeer" when a second restaurant was opened in 2002 at Vinod Nagar.
We just don't happen to be a business that sells food- it's what we're all about. Cook delicious food – Offer heartfelt welcoming service – Give back to the society – Run an efficient & Profitable business.

Make Nazeer a better place for both our customers and employees. We have a plan to open 500 + outlets in next five years.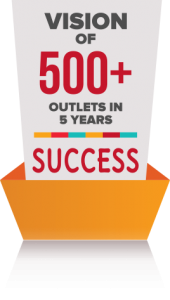 Food is the essence of who we are. Food should taste and smell great as it have a direct impact on the health and wellness of individuals, communities and the environment. We want to make the word "Wah" synonymous with Nazeer by providing hygienic & mouth-watering food.
OUR MISSION
Our up skilled Chefs have set a benchmark for the recipe prepared. To satisfy our customers is what they aspire.

FLAVORSOME FOOD
We have incomparable, delicious and authentic dishes to make your experience a sensational journey for your taste buds.
ELABORATE SERVICE
We understand the eating desires of every generation and so we have expanded our model to a whole new level of hospitality.